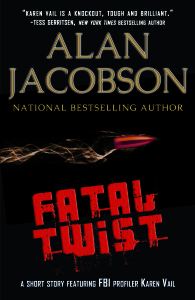 Published in The Strand Magazine (May 2012 issue)
Available on all eBook platforms
"Karen Vail is a knockout, tough and brilliant."
– Tess Gerritsen, New York Times bestselling author & creator of Rizzolli & Isles TV series

"Karen Vail is one tough character."
–Kathy Reichs, New York Times bestselling author & creator of Bones TV series
In a short story derived from the highly-praised national bestselling Karen Vail series of thrillers, Fatal Twist gives the reader a taste of the dynamic FBI profiler, who's been called "My kind of hero" by Michael Connelly, "A hell of a lady: tough, smart, funny, and very believable" by Nelson DeMille, and "Compelling" by James Patterson.
The Park Rapist has murdered his first victim—and FBI profiler Karen Vail is on the case. As Vail races through the streets of Washington, D.C. to chase down a promising lead that may help her catch the killer, a military-trained sniper takes aim at his target, a wealthy businessman's son. But what brings these two unrelated offenders together is something the nation's capital has never before experienced.
Alan Jacobson received several years of personalized training from two senior FBI Profilers at the Behavioral Analysis Unit in Quantico. Fatal Twist, like Jacobson's Karen Vail novels The 7th Victim, Crush, Velocity, and Inmate 1577, brings real characters to the page—and in the process takes readers on a thrilling ride that culminates in an ending that leaves them satisfied…and wanting more.
Buy Fatal Twist: