The time has finally come! No, not your vaccine appointment—the July 27 release of THE LOST GIRL, which introduces new characters to the Alan Jacobson canon, including Mickey Keller, a fixer with a complicated past. Keller finds himself conflicted regarding what his heart tells him to do versus what his boss orders him to do. There will be a few peripheral tie-ins to the Karen Vail and/or OPSIG Team Black universe that readers will notice, but the novel (and Mickey Keller series) is designed to stand on its own.
And that brings us to a very important decision: the cover. We've got two new graphic designers—Annie Maco and Shannon Raab—who produced four drafts that speak to different aspects of the story. It's time to vote for—and choose—the face of THE LOST GIRL. (Well, not literally.)
THE LOST GIRL is an emotional ride that retains all the page-turning suspense and thriller elements you've come to expect from an Alan Jacobson novel. While it's best not to judge a book by its cover, we all do! That's why your vote matters.
The best part? We're giving away five copies, selected by my publisher at random from everyone who votes.
IMPORTANT:
– Email us your vote by clicking this link
– Please vote only once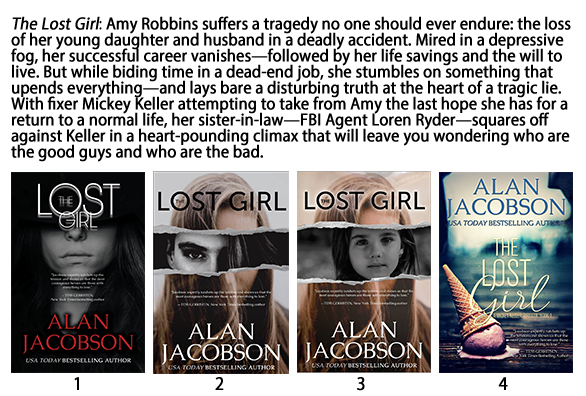 Click here to email us your vote
If the link doesn't open your email app, send your vote to readers3(at)alanjacobson.com