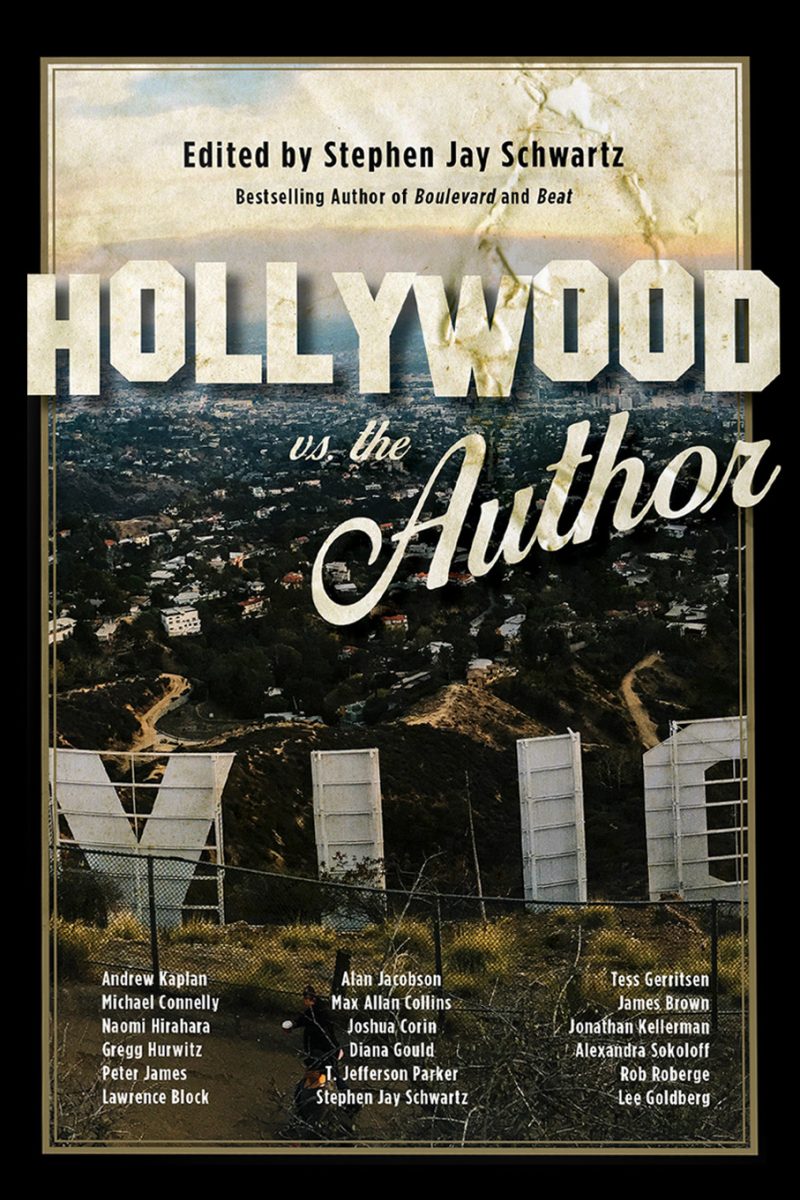 Rare Bird Books, 2018 (trade paperback, eBook)
Brilliance Audio, 2019 (audiobook)
It's no secret that authors have a love-hate relationship with Hollywood. The oft-repeated cliché that "the book was better than the movie" holds true for more reasons than the average reader will ever know. Hollywood's vision for the film or TV series rarely seems to match the vision of the author. And for those rare individuals who've had the fortune of sitting across the desk from one of the myriad, interchangeable development execs praising the brilliance of their work while ticking off a never-ending list of notes for the rewrite, the pros of pitching their work to Hollywood rarely outweigh the cons. Most authors whose work contains a modicum of commercial potential eventually find themselves in "the room" taking a shot at seeing their creations re-visualized by agents, producers or development executives. What they often discover is that their audience is younger and less worldly as themselves. What passes for "story notes" is often a mishmash of vaguely connected ideas intended to put the producer's personal stamp on the project.
Hollywood Versus The Author is a collection of non-fiction essays by authors who've had the pleasure of experiencing the development room firsthand―some who have successfully managed to straddle the two worlds, seeing their works morph into the kinds of feature films and TV shows that make them proud, and others who stepped blindsided into that room after selling their first or second novels. All the stories in this collection illustrate the great divide between the world of literature and the big or small screen. They underscore the insanity of every crazy thing you've ever heard about Hollywood. For insiders and outsiders alike, Hollywood Versus The Author delivers the goods. Stories by Stephen Jay Schwartz (Editor), Michael Connelly (Contributor), T. Jefferson Parker(Contributor), Lawrence Block (Contributor), Alan Jacobson (Contributor), Tess Gerritsen (Contributor), Lee Goldberg (Contributor), more.
This work contains essays by Michael Connelly, Lawrence Block, Max Allan Collins, Alan Jacobson, Andrew Kaplan, Tess Gerritsen, James Brown, Peter James, Rob Roberge, Lee Goldberg, Naomi Hirahara, T. Jefferson Parker, Diana Gould, Joshua Corin, and Alexandra Sokoloff, among others.
"Hollywood vs. The Author should be considered mandatory reading for any author seeking to have what they write made into a film or television series."
―Midwest Book Review
HOLLYWOOD VS. THE AUTHOR
Copyright (c) 2018 by Stephen Jay Schwartz (Editor), Michael Connelly (Contributor). All Rights Reserved.
THE SEDUCTRESS
by Alan Jacobson
She's so sexy, that alluring vixen known as Hollywood. Difficult to resist. Promising the world and often delivering…false hope and failed dreams. And yet we authors can't help ourselves. No matter how much we protest that "This is the last time," or "I'm going to concentrate on my novels and not even think about movies or television," she keeps pulling, pulling, pulling us back in. Back into the quicksand.
Rewind a few years. My agent had secured a deal with a producer who bought the rights to Hard Target, the second novel in my OPSIG Team Black covert ops series. He was coming off the success of Superman and his Tom Cruise vehicle, Valkyrie, was about to hit the theaters. We had planned to have dinner in Los Angeles and meet for the first time, but he had to reschedule. When we sat down to eat a couple of weeks later, he apologized for having to move the meeting. "My wife and I went to see Elton John," he explained. No worries, I assured him. My wife and I went to see him too, about a month ago. Great concert. He looked at me across the table and then shook his head. Pitying me. "No, Alan. No. I mean my wife and I went to see Elton John. At his home. In England. Bill and Chelsea Clinton were there, along with Denzel Washington…" Oh, I said, feeling a bit stupid. Yeah, my wife and I didn't do that.
Of course we didn't. Because those Hollywood types walk in different shoes. On different streets.
That same producer also optioned The 7th Victim. For some reason that project was moving a little faster and a screenplay was commissioned and completed. My agent sent it to me one afternoon. 
When I finished reading the first page, I realized my lips were parted. To clarify, I was not smiling. I was…well…kinda shocked. A line of perspiration broke out across my forehead. The screenwriter had managed to make my flagship character, FBI profiler Karen Vail, into an obsessive-compulsive wreck. She literally put padlocks on her refrigerator to protect her milk. I sat there wondering, "Why would the writer do this?" There was nothing in The 7th Victim—or the subsequent novels of the series—that even suggested that Vail had such a condition. She has a lot of problems, but OCD was not one of them. I continued reading, figuring that perhaps the writer had a good reason for "enhancing" Vail's character. After all, you have to keep an open mind when reading a screenplay adaptation of your work. No novel is perfect, so maybe there was something here—improvement, elevation of the character—that would soon become evident.
There was not.
I studied screenplay adaptation and I've adapted novels, so I understand that there are legitimate reasons why writers combine characters, omit scenes, and make other modifications to fit a 400-page novel into a two hour movie. I did not have unreasonable expectations.
But…this script deviated substantially from The 7th Victim's source material, and without good reason. It got worse as I read. I gave it to my wife without comment and asked for her opinion. I won't repeat what she said—better to keep this rated PG—but suffice it to say she confirmed that I was not viewing the adaptation through biased, author-influenced eyes. I called my agent and expressed my concerns. He told me he had reached the same conclusion and that he planned to sit down with the producer for a heart to heart.
Buy Hollywood vs. The Author