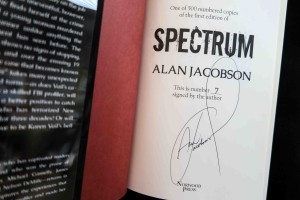 After the rash of bookseller closures across the country, Alan's publisher cut back substantially on his touring schedule. Other than a rare standalone signing event, his public appearances now occur primarily at fan conferences such as ThrillerFest, Bouchercon, Men of Mystery, etc.
For those readers who've been asking where they can purchase signed editions of Alan's novels, VJ Books has filled the void–from first-rate, top quality cloth-bound, embossed and foiled hardcovers to leatherbound collector's editions.
For more information, details on what's available, and how to order, go to VJ Books' website here.