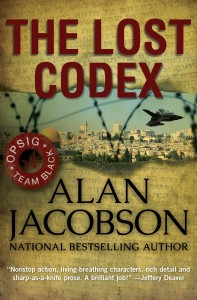 The Lost Codex
Norwood Press, 2015 (hardcover)
Open Road (trade paperback)
Open Road (eBook)
"From the first page, you know you're in the hands of a storyteller at the top of his game: The Lost Codex has nonstop action, living-breathing characters, rich detail and sharp-as-a-knife prose. A brilliant job!"
—Jeffery Deaver, #1 New York Times bestselling author

"A masterwork of international suspense, an enthralling mix of ancient history and modern terrorism, with rich settings, vivid characters, and a fascinating premise. From the opening chapter—in which a Dead Sea scroll with a stunning secret is discovered—to the final shattering twist, this is an outstanding novel from a major talent."
—Douglas Preston, #1 international bestselling co-author of Blue Labyrinth

"Incredibly realistic. This is the way we did it in the SEAL Teams. It is so true-to-life that it's hard to believe it's fiction. A fantastic story."
—Robert "Dusty" Barton, UDT US NAVY SEALS – BUD/S Class 51 (ret.)
Two ancient and priceless biblical documents hold revelations that could change the world as we know it
In 930 CE, a revered group of scholars pen the first sanctioned Bible, planting the seed from which other major religions will grow. But in 1953, half the manuscript goes missing while being transported from Syria. Around the same time, in the foothills of the Dead Sea, an ancient scroll is discovered—and promptly stolen. Six decades later, both parchments stand at the heart of a geopolitical battle between foreign governments and radical extremists, threatening the lives of millions.
With the American homeland under siege, the president turns to a team of uniquely trained covert operatives that includes FBI profiler Karen Vail, Special Forces veteran Hector DeSantos, and FBI terrorism expert Aaron Uziel. Their mission: find the stolen documents and capture—or kill—those responsible for unleashing a coordinated and unprecedented attack on US soil. Set in Washington, DC, New York, Paris, England, and Israel, The Lost Codex has been called "a masterwork of international suspense" and "an outstanding novel" by Douglas Preston and "brilliant" by Jeffery Deaver.
Read more about OPSIG Team Black and why The Lost Codex is book #3 .
Buy The Lost Codex:
(Audiobook link will be added when it goes on sale.)
KindleNookiBooksGooglePlayKoboPaperbackHardcoverLeatherbound hardcoverIndieBound
var _gaq = _gaq || []; _gaq.push(['_setAccount', 'UA-33222454-1']); _gaq.push(['_trackPageview']);
(function() { var ga = document.createElement('script'); ga.type = 'text/javascript'; ga.async = true; ga.src = ('https:' == document.location.protocol ? 'https://ssl' : 'http://www') + '.google-analytics.com/ga.js'; var s = document.getElementsByTagName('script')[0]; s.parentNode.insertBefore(ga, s); })();