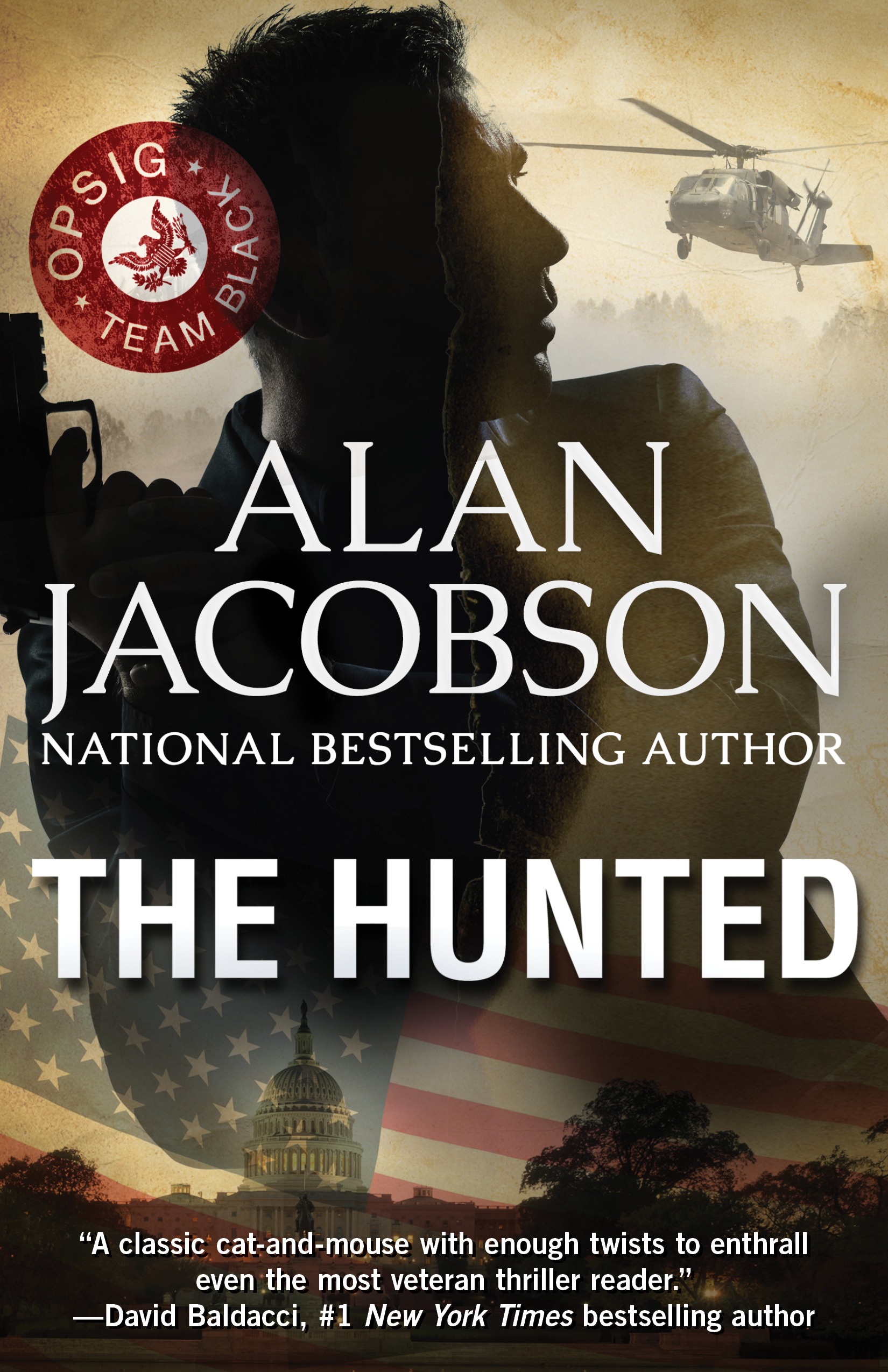 THE HUNTED
Copyright (c) 2001, 2011 Alan Jacobson. All Rights Reserved.
PROLOGUE
August
The United States Attorney stood on the courthouse steps, the hot August air oppressively still and heavy with humidity. Reporters were gathered around him, microphones and digital recorders shoved toward his drawn face.
"I only have a brief statement for you. At twelve-thirty this afternoon, Judge Richard Noonan held a hearing on newly discovered evidence in the Anthony Scarponi murder conviction of six years ago. The defense has secured what Judge Noonan has determined to be a credible witness who can provide evidence of Mr. Scarponi's innocence. Collaterally, the Department of Justice has failed to locate former FBI agent Harper Payne, who was the central witness for the government in the original trial. As a result, Judge Noonan has ordered the release of Mr. Scarponi on two million dollars bail pending the scheduling of a new trial."
A flurry of questions burst forth from the press corps. Instead of answering them, the U.S. Attorney turned and walked back up the courthouse steps. A screaming headache was beginning to take shape, and the last thing he needed was two dozen journalists asking the one question he had been asking himself repeatedly the past several days: How could this have happened?
September
THE APARTMENT WAS A sparsely decorated studio on the outskirts of Washington, D.C., secured by contacts he had maintained while incarcerated in the maximum security prison in Petersburg, Virginia. He had hoped the day would come when he would be out on his own again, free to roam the streets like a jaguar prowling for its next quarry.
Anthony Scarponi knew that to have true freedom, the tiny tracking device implanted in his buttock had to be removed. Some foreign physicians would perform such a procedure without asking questions, but finding one in the United States would be time-consuming and dangerous.
There was only one possible course of action.
He stood with his right leg up on the edge of the bathtub, a large magnifying makeup mirror perched on a step stool beneath his buttock. A high-intensity halogen light lay on the floor, flooding his skin with enough brightness that if he looked away, he would have a temporary blind spot. His paraphernalia was laid out across the bathroom counter, within reach of his left hand: syringes filled with lidocaine hydrochloride solution, sterilized stainless steel probes, a scalpel, forceps, clamps, gauze rolls, pads, and suture kits.
After injecting the surrounding area with anesthetic, he began by opening a long slit overlying the tiny, delicate scar line left by the surgeon's original incision. It was tedious work at first, as he had to locate the exact position of the microchip they had implanted. That it was buried toward the rear of his buttock made the probing more difficult. Though he was not supposed to know this had been done to him, he had sources. Even inside a maximum security federal prison, he had sources.
According to his informants, a couple of guards had taken him from his cell on a Monday—and didn't return him until the following Sunday. Scarponi surmised he had been drugged, then kept sedated until he could heal. It took a few months, but he eventually learned what they had done to him.
An hour later, the lidocaine syringes lay empty, the last one having been injected forty minutes ago. He was now working on sheer determination, grit, and guts, using the skills of discipline his Chinese mentors had taught him. After much tedious probing and searching, he finally found the tiny device. Carefully, he extracted the foreign body, which was a quarter the size of a penny, and placed it gently into a Pyrex dish filled with saline solution.
Ten minutes later, he tied off the last suture, packed away all evidence of his crude surgery, then chased down an ampicillin capsule and a Vicodin tablet with a glass of water. Scalpel in hand, he walked over to the rat that was lying still in its cage. It was fast asleep, the drugs he'd given it two hours ago having done their job in marked contrast to the largely ineffective lidocaine he had used on himself.
He suddenly realized that he should have chosen a guinea pig instead of a rat. Then it would have mirrored his own situation so closely the feds couldn't help but see the irony in what he'd done. In the end, though, it didn't matter, because he wouldn't be around to feel their shock, taste their hatred.
He removed the rodent from its tiny prison, made his incision, and did his deed. He stepped back and laughed a shrill howl, marveling at his masterpiece, intrigued by what the feds would think of his latest feat.
1
January
"I've got her tied down to the chair. I slap her. She likes it, she smiles at me. She wants more."
Dr. Lauren Chambers swallowed hard, then leaned forward in her seat. "Who is this, Steven, who's tied down?"
"Gina. My girlfriend. The others are unconscious."
Lauren bit her bottom lip. This was one of the most extraordinary first sessions she had ever experienced with a patient. Steven Simpson, a forty-year-old state worker, had come to her because he had lost his ability to fight off his sexual urges. But they weren't just sexual fantasies, her patient was quick to point out. "They're torture fantasies," he had said. "There's a huge difference. Haven't you been listening to me?"
Normally, Lauren had no difficulty focusing on her patient. She was a professional, and when she walked into the office, she left her problems at the door. But today was different. She forced herself to look at this person, really see this man, who wore oversize, rose-tinted glasses and a bright blue polyester shirt opened at the collar. She decided that if a dictionary publisher were searching for a defining image of the word geek, Steven would qualify. His hair was frizzy and wild, parted and combed across his head in an apparent attempt to tame it. But the effort had failed miserably, and he looked more like a mad professor than the moderately paid state worker drone that he professed to be.
Judging by what he had just told her, she had to agree with him. These torture fantasies were not merely a benign form of sexually oriented daydreaming.
Though in a hypnotic state, Steven smiled. "She wants more."
"Steven," Lauren said, "you mentioned others. How many women are there?"
"There are four. They're all strapped into chairs. I'm more intrigued by the last one, the blonde."
"These…sessions you have with Gina and her, uh, friends. Are they just fantasy, Steven, or are they real?"
"There's blood. She's grinning at me so I slap her again. There's too many of them, too many women. The blood is coming from her nose, it's dripping down to her chin. I smear it all over her face with my hand. She's laughing. She loves it, she wants more. She wants me to hit her again. But there's a noise from behind me. It's Cynthia. She's naked. She's calling my name."
Lauren suddenly felt uncomfortably hot. She knew she was taking risks by placing her patient under hypnosis on his initial session. Establishing an accurate diagnosis and a trusting rapport with a patient often took the better part of two meetings. But from what she had seen in their first forty-five minutes together, Steven's case required immediate intervention.
Although therapy could sometimes get stressful—and this one certainly qualified—she never feared for her safety. Yet something about Steven made the hairs on the back of her neck stand at attention. She pulled a couple of times on her silk blouse, attempting to flap some cool air against her moist skin, then refocused on her patient. "So what happens next, Steven?"
"I take Gina, right there on the chair."
"While she's tied down?"
"Definitely."
"And how does Gina feel about this?"
"She orgasms."
Lauren paused for a second. "Does she cry out?"
Steven licked his lips. "Oh, yes. Very loudly." He threw his head back and lifted his hands. "Owww," he groaned. "Like that."
"Oww? You mean, like she's in pain? Is she in pain, Steven?"
He smiled again. "Intense pain."
Lauren looked down at her pad. This man routinely rapes his girlfriend. But is it fantasy or reality? She shook her head. "How does that make you feel, Steven? How does her pain make you feel?"
"It makes me come. It makes me feel special. But not as special as tying her down. I make the ropes so tight they cut into her skin. So tight that they hurt. The ropes hurt, they hurt me."
Lauren's head snapped up. What did he just say? "The ropes hurt you, or do they hurt her? Who's tied up, Steven? You or Gina?"
Her patient did not answer. A tear coursed down his cheek.
"Steven, remember, no one can hurt you here. You're completely safe. No one will judge you. You can tell me everything."
He smeared away the tear with the swipe of a hand. "Gina. Gina is tied up."
"Does Gina say anything to you afterwards?"
"She's angry. She went away for a couple of days."
Lauren sat for a moment, trying to think of the best treatment approach to use on Steven. She knew what she had heard: her patient had clearly stated that he was tied up, which could explain many things. Was he abused as a child? Had he been tied down and tortured by one of his parents? She shuddered at the thought.
A noise in the hallway grabbed her attention and she glanced at the large black-on-white wall clock behind her patient. She needed to bring this session to a close. But what a time to have to end it!
She sighed deeply. She knew she could not leave him in his current state. If she could curb his overwhelming desires, it might keep him in check until she had a chance to work with him further and probe deeper to reach the root cause of his psychosis. Right now, she needed an immediate, albeit temporary, measure to accomplish this. To make it work, she had to take him down deeper.
"Steven, we're going to talk more about this next week. In the meantime, I want you to close your eyes, let your head fall back against the chair, and focus on my voice." She used a calm, melodic tone to relax him. "That's it, just let everything go. I want you to picture yourself at the ocean. The waves are effortlessly rolling up the sand and tickling the tips of your toes. The soft breeze is blowing the hair off your face. Now think about all your anger, frustration, tension…and toss it out into the ocean. Watch it float away as it bobs up and down on the waves, moving farther and farther away from you."
Her patient's facial muscles went flaccid, causing his cheeks and mouth to droop slightly. He was now exactly where she wanted him. She had performed so many hypnotherapy sessions in graduate school that she was affectionately known as the Underlord, a nickname she did not particularly like. Still, it was a good-hearted attempt by her colleagues to honor her exceptional hypnosis skills.
"Each time you feel a sexual urge coming on, when you feel yourself losing control, you'll feel intense pain in your left temple. It will be an explosive headache that will last for five minutes and then subside. Do you understand what I'm saying, Steven?"
He continued to lie back in the chair, his head extended and cocked to one side, his mouth hanging open. He smacked his lips a couple of times, swallowed, then said, "Yes."
"Good. Now, I'm going to wake you up. You won't consciously remember anything we talked about. When I snap my fingers, you will awaken refreshed and happy."
He opened his eyes and sat up, looked around, and focused on Lauren. "What happened, Doc? We were talking, and then…I don't know, you're sitting there looking at me."
"Everything went fine, Steven. You just went into a very relaxed state for a few moments." She glanced again at the clock and rose from her chair. "Next week we'll talk some more, try some things that I think will help."
"I feel great."
"Good. I want you to feel great." Lauren smiled. "This was an excellent first session, Steven."
"What about those thoughts, those fantasies?"
"I don't think you'll have any problems with them. But you'd better carry a bottle of Excedrin with you."
LAUREN FOLLOWED HER PATIENT out into the hallway, where the shared receptionist sat behind the desk wearing a telephone headset. The other therapists had gathered in the area, as they all had completed their sessions at the top of the hour. Lauren ignored their burgeoning discussion and looked over at the receptionist.
"Did my husband call?"
"No, Doctor, he didn't. Just like the last hour, and the hour before that."
Fortunately, the bizarre case Steven presented had helped take her mind off Michael, even if only for a few minutes. Lauren looked away and headed back into her office. She stood in front of a photo on the wall, the one she had taken of Michael in their backyard a few years ago, shortly after purchasing their house.
"Michael," she whispered, "please come home."
2
As Lauren readied herself to leave the office for the evening, she prepared a short list of items she needed at the local Placerville Food & More. She opened her purse and popped a Xanax tablet into her mouth, maneuvering it with her tongue to the back of her throat and forcing it down with a few gulps from the water fountain. She hated having to rely on medication, but it helped her avoid the extreme anxiety she sometimes felt in open, public places. Michael understood and, as a result, always did the grocery shopping. Walking into the market and feeling totally lost only made her miss him more.
Food & More was packed with shoppers who had stopped in after work on their way home for dinner. Lauren stood in line, fidgeting, keeping her eyes low and away from those around her. She dabbed at her brow with the back of her left hand. The Xanax should be taking effect soon, she told herself. In the meantime, she had to take her mind off her escalating apprehension before it became incapacitating.
She fixed her gaze on the checkout magazine rack, where the cover of the latest issue of Time grabbed her attention. The large photo showed a haggard young woman, whom the caption identified as Brittany Harding, with the bold headline "False Accusations…or Not?"
Lauren picked up the magazine and thumbed to the article. She recalled this case dominating the local headlines a year or two ago. A prominent surgeon had been arrested for murder, yet it turned out that a psychotic acquaintance of his had actually committed the crime and framed him for it. Lauren remembered the case well because she had once referred a patient to the surgeon, Dr. Phillip Madison. Though her patient's prior orthopedist had diagnosed psychogenic pain—commonly known as "it's all in your head"—Lauren felt her patient required a more comprehensive workup. She made the referral and Madison discovered a spinal tumor, which he deftly removed two days later. She was glad to read that Harding's appeal had been denied. Madison was a good physician.
"Damn shame about that, wasn't it?"
Lauren looked up and noticed that the elderly woman in front of her was looking at the photo spread of Brittany Harding and Phillip Madison.
"I remember when that happened," the woman continued. "It's the lawyers, they're the problem."
Lauren looked at her but did not respond. She closed the issue of Time and put it back on the stand. With Michael gone, she knew she would not be in the mood to do any reading.
Just then, a man in the adjacent aisle was opening a register. "I'll take the next person in line."
Lauren moved her cart over and the checker began to scan her items as a young female bagger popped open a plastic sack.
"Chilly out there tonight, isn't it?" the man asked.
Lauren forced herself to look at him, nodded, then looked away. Her heart began pounding and she could feel a drop of perspiration course down her spine.
"Cash, check, or—"
"Cash." Lauren handed him a twenty, avoiding eye contact, and pocketed the change.
"Need help with that ba—"
"I've got it," Lauren said, scooping up the sack and heading away from the mass of people.
"Have a nice day," the man called after her.
LAUREN'S AGORAPHOBIA HAD BEGUN four years ago when her attempt at running her own practice had come to a screeching halt. A friend of hers, another psychologist who had moved to Placerville, California, several years earlier, had suggested the two of them form a partnership and go into practice together. Wanting desperately to get out from under the rigors of institutional care, Lauren had jumped at the idea.
Two years later, with their practice growing slower than anticipated, Lauren's partner announced she had purchased a thriving practice from a retiring psychologist. She informed Lauren she was dissolving their agreement—and that, effective immediately, she was taking the staff and her patients with her. With a decimated practice, the next three months proved devastating for Lauren.
Now, as she drove her car, she thought of the day Michael had sat her down and helped her see what had to be done.
"You've given it everything you have, honey," Michael had told her. "But things are out of control. We need to make a change."
"Close the practice?" Lauren asked, fidgeting with her gold necklace, trying to maintain control.
"What's left of it, yes. The lease is coming due in five weeks. I just don't see things turning around overnight." He stroked her hair. "I know this is not what you wanted to happen, but your ex-partner abandoned you. None of this is your fault."
Lauren buried her face in her husband's chest and cried.
Over the next few weeks, Lauren fell into a deep depression. Michael bore the burden of handling the closure, selling off what few assets she had—furniture and various pieces of office equipment—and finding another psychologist in town who would assume care of Lauren's remaining patients. Had it not been for Michael's constant attention, she would never have gotten through it.
As she exited the freeway, she realized for the thousandth time today just how much she missed her husband. She made a few turns and headed deeper into the rural area of Placerville. The headlights of the car that had been behind her since she had exited the freeway were annoying and distracting. On such dark roadways, the lights stood out painfully against the background, poking at her eyes like needles.
Lauren made a left turn and the car stayed with her. She made another left and then two rights, and each time, remaining a good two blocks back, the other vehicle shadowed her moves.
Perspiration began trailing down her back again, and her breathing became labored. Here it was, the day after her husband had failed to return home from a ski trip, and she already had more stress than she was equipped to handle. Now, a car was following her. Or was it? Was her propensity for anxiety making simple coincidence into something more significant?
Her heart began pounding and her mouth was so dry it felt as if her throat had closed down on her. She knew these symptoms well, and she fought them hard. Though she had given up her dependence on antidepressants a year and a half ago, the occasional Xanax remained her sole residual crutch. And although it should have reached full strength by now, she felt as if she had never taken it.
Just then, something exploded in the rear of her vehicle. The car swerved right, but she steered into the slide and quickly regained control. She had only felt this sensation once, many years ago, but it was unmistakable: she had a blowout. She accelerated hard, but the car responded sluggishly.
She glanced up at her rearview mirror. The headlights seemed to be bearing down on her. As she slowly gained speed, she started having more difficulty controlling the car as it thumped along, yawing left and right. But there was no way she was going to stop.
She knew the streets in this neighborhood of Placerville like the layout of her house, and twenty yards ahead was a one-lane dirt road that was nearly impossible to see at night if you did not know it was there.
Going forty-five miles an hour, she pulled the steering wheel hard to the right. The car's wheels left the pavement as they, too, were surprised by the sudden turn. Lauren swerved wide into a narrow ditch along the left side of the shoulderless road. She floored the accelerator, but the rear wheels spun aimlessly in the loose gravel and dirt.
Lauren cut her lights and quickly got out of the car. She glanced over her shoulder for the headlights, but didn't see them. Was she just being paranoid, like one of her patients?
Not willing to take the chance, she scampered up the slight embankment, pushing the brush aside with frantic hands. As she ran, she struggled to maintain her balance on the hard-packed underlying ground that was pocked and uneven. She caught her toe in a crevice, and before she could adjust, her other foot landed in a deep indentation and she plunged forward, face first, slamming her chin into a large rock half-buried in the ground.
Sharp pain shot through her jaw.
Lauren shook it off and got to her feet again, moving with purpose toward her house, which sat about a stone's throw up ahead on the hill that was now visible.
Before she had gone ten feet, a flash of light hit her in the back and silhouetted her form against the tall brush. She spun and saw a car turning onto the road, approaching the spot where her disabled vehicle was parked. She stumbled forward, pieces of the high, prickly thistles slicing at her lips and cheeks as she ran by.
Twenty yards to go, ten until she reached her backyard, where Tucker, her black Doberman, would be standing watch. Maybe her pursuer would see the dog and leave her alone.
Off to the left was the back of the Andersons' house, but Lauren knew they were out of town. Beyond the Andersons' property sat an older one-story ranch where an elderly couple resided. The house was dark—but even if they were home, the man was ill and the woman was nearly deaf. They probably wouldn't be able to render any substantial assistance.
As Lauren climbed the low wooden fence that lined her property, she whistled. "Tucker, come!" she said in a frantic whisper. But the dog did not appear. "Tucker!" she called again, somewhat louder, to no avail.
She reached the back door and fumbled with her keys, finding the correct one but having difficulty inserting it into the lock. She let out a whimper of frustration as she repeatedly stabbed at the metal cylinder with a nervous hand. Lauren took a breath, calmed herself, and made one more attempt. The key slid in and she turned the knob.
LAUREN SLAMMED THE BACK DOOR behind her and flipped the locks shut. Tears were running down her face and her lungs were burning from the run through the cold January air. She pressed her back against the door and rested for a moment as her mind cleared. Was someone really following her, or could it have been a neighbor—someone who lived on the same block or even a block or two over?
She should've made a few nonsense turns, just to be sure—but she hadn't. She took a breath to calm herself. She suddenly felt foolish. This whole situation with Michael was getting to her, putting her on edge. Get a grip, she told herself.
Just then, a loud thump coming from the other room startled her. She immediately froze and her heart began banging inside her chest. The adrenaline that had cleared from her bloodstream only seconds before was again surging through her body.
In the seconds that she took to decide what to do, Tucker came bounding around the corner, his stubby tail wagging.
"Jesus, you scared the crap out of me." She bent over and hugged the dog, smiling at how silly she had been. "You're supposed to be outside. Did I leave the door open? Is that how you got in here?" Lauren walked toward the garage, expecting to find the side door ajar. She flipped on the light and peered in. The door was closed.
Then, it hit her. "Michael! Michael, where are you?"
Lauren moved swiftly through the house. But the doors and windows were locked. There were no notes. And Michael's Chrysler was not in the carport.
Lauren stood there for a second, then looked down at the dog. "I know I left you outside this morning." She began wandering from room to room, again hoping to find some kind of explanation.
Her mind flashed on the headlights in the darkness…on the car that had been following her. Or had it been following her?
She walked into her room, sat down on the bed, and stared at the antique bureau where her wedding picture sat. Happy times, the photo said, full of blissful promise for the future. That was only four years ago, yet it felt like an eternity. So much had happened since then, little of it good.
She curled up on the bed, hugging her knees tightly against her chest. As tears began to roll from her eyes, Tucker came over, sat down, and licked her face. He nuzzled her cheek and did not move until she touched his snout and stroked it. He loved it when she did that. The dog stayed right there by her side, the only calming influence in her life other than Michael.
And right now, Tucker was all she had.
LAUREN LAY THERE FOR SEVERAL MINUTES. Unable to step out of her role as psychologist, she couldn't help but analyze her own thoughts and feelings. She concluded that, despite all that had happened this evening, the fact that Michael was away—that he hadn't returned home when he was supposed to have—was wearing on her. She glanced at her watch. He was now thirty-four hours overdue.
Suddenly, Tucker lifted his head. His eyes were wide and his ears straight up, like radar zeroing in on an errant noise.
"What is it?" Lauren asked, straining to hear what had caught Tucker's attention.
The dog looked at her, then, satisfied that the noise was not a threat, rested his head back on the bed.
Lauren chewed on her bottom lip for a moment, then pushed Tucker aside and knelt at the edge of the bed, reached underneath, and pulled out her trunk. It was the same wicker case she'd had as a child, the one she had lugged from dorm to apartment to its final resting place beneath their bed shortly after marrying Michael.
Lauren opened it and moved aside some personal effects: an old jewelry box with the chains, rings, and necklaces she had worn as a teenager; the dress her mom had bought for her sixteenth birthday, folded neatly and sealed in a small cardboard container; and a weathered oak container that had been in the family for fifty some odd years.
She removed the box, pushed the trunk aside, and sat cross-legged on the floor. She reached around her neck for the delicate chain she had worn for the past twenty years and fingered the small metal key that hung from it. Although Michael did not know the whole story behind it, he knew it had been a gift from her father, and that it held special meaning for her. Just after Lauren's partner announced her intention to leave the practice, Michael had had the keepsake gold-plated in an attempt to lift her spirits.
Using the key, Lauren unlatched the tiny lock that sealed the wooden box. She lifted a velvet-covered object from the container and held the heavy weight in her left hand. She sat there staring at the soft bag for a long moment before reaching inside and pulling out her father's Colt six-shooter pistol. The chrome was tarnished and dull, the handle worn … but the letters N.R.—her father's initials—were still visible. She held the weapon in her left hand and slowly caressed it with her right. Gentle strokes, the smooth ridges of the cold metal passing beneath her fingertips. Had it been her lover, it would have enjoyed the intimate contact.
She brought the pistol over to the desk in the loft and flicked on the halogen light. As she began to clean it, she thought back to the night when she had first become acquainted with this old friend.
It was 2:46 in the morning twenty-five years ago when Lauren was awakened from her sleep by shouting from her parents' bedroom. She ran down the hall in the direction of the commotion. There, in the dark, she heard the sobs of her mother…then the scream "Lauren, get out!" and the gunshot, the one that sent her father hard to the floor. The dark-masked figure had then turned and pointed the gun at Lauren. She stared at the barrel, the fear welling up in her chest as her mother screamed, "No!"
And then the gunshots, the two that struck the intruder in the chest, and the one that whizzed by her head as the man fell to the floor, blood pooling out around his body in a matter of seconds as she stood there. Too scared to move—
Until her father called to her, in a weak voice.
He was flat on his back, his own blood pumping from a hole in his abdomen, the Colt lying in his open hand. Young Lauren looked at her mother, who was crumpled in a corner, her face frozen in shock.
The terrified ten-year-old grabbed the phone and dialed 911, gave the location of their house, and told the woman, "My dad's hurt, there's blood all over. Please hurry!"
Lauren set down her brush beside the Hoppe's cleaner and cotton patches. As she thought about that night, she remembered the paramedics carting her father away. He survived that injury but had been paralyzed from the waist down, a condition that caused his premature death five years later. He had left her the gun in his will, along with an apology for not being able to leave something more valuable to make things easier for her. But having the gun that had saved her life was far more precious than he could ever know.
She polished it lovingly and brought the chrome to a bright, reflecting shine, just as her father had liked it. One by one, she inserted the six bullets and took aim at the wall in a phantom shooting stance. But she felt strangely repulsed by the thought of using the weapon. In the years since his death, she had viewed the firearm with conflicting emotions: it may have saved her life, but one just like it had sent her father to an early grave.
With the immediate threat now behind her—if that car was even a threat to begin with—Lauren returned the Colt to its box and placed it on her night table. She lay back on the bed and Tucker spread himself out across the wood floor in a spot where he could see clear down the hallway to the staircase.
She grabbed Michael's pillow, closed her eyes, and gently rubbed her face against the soft cotton, taking in her husband's familiar scent.
"Michael, where are you?" she whispered, then fell off into a fitful sleep.
3
Lauren had only slept for three hours before awakening suddenly at one o'clock in the morning. She was lying on her bed and sweating profusely, still gripping Michael's pillow. Tucker was on the floor near the doorway, sleeping.
She sat up and was instantly wide-awake. Her mind was swirling with thoughts…questions about patients, progress notes she had forgotten to dictate, and…Michael. She looked back at the bed where the sheets were still tucked in.
She stood and went downstairs to the kitchen. She turned on the light in the garage, but Michael's Chrysler wasn't there. Neither was her car, for that matter—and then she remembered she had left hers on the side of Pike Road.
Lauren opened her purse and pulled out her A-I Roadside Assistance card, dialed the number, and told the operator where her Honda was parked. She asked the dispatcher to send a truck in the morning to change the tire and tow the car up to her house.
With that out of the way but still feeling wide awake, Lauren went to the cupboard, boiled water for a cup of tea, and added a dash of milk. She nursed the hot drink until she started to feel the slight pull of fatigue on her eyelids.
She climbed into bed and lay there awake for another half hour. She was tired but her mind was still focused on all things Michael—from dates they had had before getting married to events in their everyday life.
As the hours passed, her fears that she might never see him again became almost suffocating.
THE OVERCAST MORNING CAME UPON LAUREN suddenly. She awakened with a start, a noise out on the roadway below jogging her out of a dream she couldn't recall. Lauren rolled out of bed and stumbled downstairs to the kitchen, where she expected to find Tucker sitting next to his bowl.
But the dog wasn't there.
She gave a whistle, but there was still no response. "Tucker! Where are you?"
She hurried through the house, moving from room to room, continuing to call out his name. As she reentered the kitchen, something slammed against the door. Lauren recoiled backward, her shaking hands finding the countertop behind her for reassurance. Something hit the door again—but this time, she caught a glimpse of Tucker's head protruding above the glass window.
Lauren stood there for a second staring at the dog, her heart banging out an angry rhythm in her chest. She pushed away from the counter and shook her head, annoyed with herself over her ridiculous behavior.
She opened the door and let him in, then walked over to the garage and scooped a cup of dog food out of the bag. As he inhaled the small chunks of food, it suddenly hit her: When I went back to bed, he was inside. She racked her brain, trying to figure out how he could have been getting in and out of the house.
The ring of the doorbell interrupted her thoughts and sent Tucker barking and running toward the front door. Lauren peered out the peephole and saw a tow truck driver standing on the porch, her car hitched to the man's vehicle behind him.
"It's okay, boy," she told the dog. She grasped Tucker's collar and held him by her side as she pulled open the door. The driver introduced himself and explained that he needed the key to access the spare.
"If you don't mind, can you tow it into my carport around back?"
"No problemo," he said.
Lauren handed him the key, then hurried into the bathroom, showered, and dressed. She wanted to get to the sheriff's office by nine-thirty, as it was a full forty-eight hours since Michael had been due home, and she could now file a missing person's report.
After towel-drying her hair, she looked out and saw her Honda in the carport. She handed the man a $5 tip and headed out the door.
HER FATHER HAD ALWAYS SAID THAT the morning sun brought new hope, new opportunities. But there was no sun to be had…only low-hanging gray skies. As she drove to the sheriff's department, Lauren could see black clouds hovering over the Sierra, no doubt dumping inches of new snow on its peaks.
The El Dorado County Sheriff's Department had the distinction of being the oldest such law enforcement organization in California. Although it had already wrapped up its well-publicized sesquicentennial celebration, its anniversary had only served to underscore that its current home was vastly in need of renovation. Located in rural, picturesque Placerville, the single-story, mustard-colored building looked every bit as outdated as its thirty-two years indicated. Its only redeeming feature was that it was set up high on a hill overlooking U.S. 50, a four-lane highway carved through a mountainside thick with a blend of aging pines and redwood seedlings.
Lauren pushed through the double doors and immediately saw the receptionist, who was seated behind a bulletproof enclosure to the right of the entryway. The woman was engrossed in shuffling some papers and seemed to ignore Lauren's presence. Finally, without looking up, the receptionist spoke into the microphone that snaked up from the countertop in front of her. Her voice was tinny and muffled.
"Yes, can I help you?"
Lauren stepped closer to the glass but did not see a microphone. "I'm here because I, I can't find my husband. I mean, it's not like I can't find him, it's that he was supposed to be home a couple of days ago and he's not, and I was told I could file a missing person's report today," she said, running fingers through her shoulder-length, honey-brown hair.
The woman did not initially respond. Lauren wondered if she had heard her; maybe she needed to press a button to activate a speaker. As she glanced around the ledge in front of her, the woman finally looked up, swiveled on her stool, and walked out of the small reception booth into an anteroom that fed the administrative offices.
Lauren stood there, wondering if she should sit down or wait at the window. She took a few breaths to calm herself. With everything that had happened to her the past forty-eight hours, her stomach was rumbling and her eyes were roaming the hallways scouting out the nearest restroom.
Just then, a heavy metal door next to the reception booth opened with an electronic click. A large, smiling woman in her late fifties, her dark hair pulled back into a bun, stepped into the hallway. "I'm Carla Mae. I'm a volunteer here, helping out the community service officer. You say your husband might be the victim of foul play?"
"No, I said he's missing."
"Oh." The woman threw an annoyed glance at the receptionist. "C'mon with me." She took Lauren by the crook of her arm and started off down the corridor. "Sorry for the misunderstanding. Miss Dawson…sometimes she and I don't communicate well."
She led Lauren down a narrow hallway lined with dark brown carpet, tan brick, and walnut paneling. Small rectangular signs protruded into the corridor from the tops of doorframes, noting RECORDS DEPARTMENT and COMMUNITY SERVICE OFFICER. Rather than windows, dark one-way glass reflected back at Lauren from all the doors lining the hall.
Finally, they arrived at a room marked AUTHORIZED PERSONNEL ONLY; Carla leaned against the door and stepped inside.
"Our community service officer, who usually handles missing persons, is out ill this week with that bad flu going around. Nasty stuff, I'm told." Carla slipped beside Lauren and motioned to one of two red vinyl chairs whose arms were worn down to the metal substructure. "Have a seat. The deputy will be by shortly."
Lauren settled into the hard chair and looked up at Carla. "Any idea how long that might be?"
"He's smack-dab in the middle of a big murder investigation. Maybe you heard about it yesterday, that rich computer guy who was shot and killed in his own home. Terrible, terrible. Anyway, Deputy York is trying to coordinate with the authorities in Sacramento and he's just a tad busy at the moment."
"Is there someone else I can talk with?"
"Normally there would be. But the detective who handles missing persons took leave and moved to Utah. His mother was in a bad way and she needed constant attention, poor thing." Carla shook her head. "So we're a bit shorthanded." She sat down behind the desk at the PC, clicked with the mouse, struck a few keys, and looked over at the LaserJet. "I'm printing a form for you to fill out, to save time. Answer as many of the questions about your husband as you can."
Carla pulled the two-page form from the printer and handed it to Lauren with a pen. "I'll make sure Deputy York comes by as soon as he gets a break in that murder case." Carla rose and moved toward the door. "Is there anything I can get you? Coffee, tea, portable heater?"
Lauren looked up, unsure if the woman had made a joke.
"You are tense," Carla said, a smile spreading across her cherubic face.
"I'm fine, thanks," Lauren said.
LAUREN SAT FOR THIRTY-FIVE MINUTES ALONE in the interview room, the cold penetrating to the bone. A shiver rumbled through her body. She glanced over at the one-way glass in the door and wondered if she was being watched.
It took her less than five minutes to complete the form Carla had given her. It consisted primarily of questions regarding Michael's physical description, schools he had attended, date of birth, and social security number.
She put the form aside and gripped the arms of the chair. In front of her was a metal and wood-laminate desk that appeared to be from the early seventies. The room itself was finished with the same dark paneling she had seen in the hallway. Duty clipboards marked WARNINGS and NOTICES were hanging from nails haphazardly slammed into the wall. Binders expounding rules and procedures were stacked on a small desk to her right, and a baseball cap hung from the pull tag that was attached to a gray metal fuse box.
She turned her body slightly and noticed a small corkboard behind her, with bulletins and employee memos pinned to it. The familiar "DARE" bumper sticker was affixed to the side of a metal file cabinet but after her initial glance, she realized the slogan "DARE to keep kids off drugs" was replaced by "DARE to keep cops off donuts." She wrapped her arms around her torso and closed her eyes. The room was starting to feel very small.
Just then, a tall, thick man with a full mustache and a hard brow entered the room dressed in an olive and tan uniform. A handgun, baton, flashlight, and an assortment of communications paraphernalia dangled from his utility belt. He leaned against the edge of the desk and crossed his arms. "I'm Deputy Vork. I was told you've got a problem, ma'am."
Lauren straightened up. "Yes…my husband was on a cross-country ski trip in Colorado and was supposed to be home day before yesterday. When he didn't show up, I called here to report it. They told me I had to wait forty-eight hours before he was considered missing."
Vork looked down at the form and scanned Lauren's answers. "Six-one, one-ninety, brown hair, and hazel eyes. Thirty-eight years old?"
"Thirty-nine in two weeks."
"Uh-huh, yup. Got that right here." He turned the form over and hiked his eyebrows. "You're a doctor?"
"Psychologist."
Vork nodded, then put the form down and looked at Lauren. "So… Colorado, you said?"
"An old college frat buddy of his was starting some kind of cross-country-skiing tour company somewhere near Vail. This was supposed to be their first big trip, and he invited a bunch of his buddies to help him out, kind of like the maiden voyage or something."
The deputy nodded. "Then you knew—"
"Excuse me, sir," a young man said, poking his head through the door. "We've got a Channel Ten reporter here, he wants to ask you some questions about the Ellis case."
"Tell him I'll be out as soon as I can." Vork turned back to Lauren. "It's a big case, people are all bent out of shape over that computer tycoon's murder. Sorry about the interruption, ma'am." The deputy reached over and picked up a pad and pen from the desk. "So you know where he went, then."
"Somewhere near Vail, that's all I remember. They were going to be camping in the backcountry."
Vork nodded. "Okay. Did you know these people, these frat buddies he was going with?"
"I never met them. And I don't remember Michael talking about them much."
"Do you know which fraternity it was?"
Lauren shook her head. "All I remember is that it was one I'd never heard of."
"What college did your husband go to? We can get a list of their fraternities and take it from there."
"It was some place back east. New York or New Jersey, I think."
"You don't know where your husband went to college?"
Lauren shifted in her chair. "We talked about it when we first met. It came up a couple other times when he told me how much he hated the humid summers. We've had a lot going on in our lives. The school he went to twenty years ago just wasn't that important."
"What about the names of the people he went skiing with? Maybe a phone number?"
"Michael said he was leaving me a note with everything on it. He called my office and said there was an accident on the freeway; and that he needed to leave right away so he didn't miss his flight. He said he was writing it all down—his friend's name and number, the flight number, everything. But I can't find where he left it."
"So he never actually told you where he was going?"
"He did, he gave me all the details, but when he called, I was rushing to go into an appointment with a patient who was late. I had patients scheduled back-to-back so I had to get the session started. I scribbled his information down somewhere, but I can't remember where." She looked down at her lap. "I must sound like a complete idiot."
"Not at all, Doctor. I'm sure if it was something you felt was important at the time, you'd remember where you wrote it. But he said he was leaving you all the information, right?"
Lauren nodded, then looked at Vork. "I got home late that night and was exhausted. I looked for his note, but I couldn't find it. I figured he'd be home in a few days, I never thought—" She put a hand up to her mouth and stifled a cry.
"Here," Vork said, handing her a tissue. "Take a minute to get yourself together."
Lauren wiped her eyes. "I'm fine. I'm sorry."
"That's okay, I understand." The deputy scratched at his ear for a second. "I have to be honest with you, though. A lot of these missing husband cases are just some straying from the hive, if you follow my meaning…"
"Straying… you mean another woman?"
"An affair, yes, ma'am. We get a lot of missing persons around these parts, and other than the occasional skier or backpacker in the mountains getting lost over the side of the road in a snowdrift or some such problem like that, it's a man doing something with a woman on the side."
Lauren sat there, trying to decide if she should be angry with the deputy or give serious credence to what he was saying. "Michael wouldn't do that to me."
"Is it possible he just up and left, walked away from some kind of stressful situation? 'Cause that's also a major reason—"
"No," she said tersely.
"Well, then. Let's take this from another perspective. Do you know—"
A loud buzz on his phone interrupted him. "Deputy Vork, line three, please," the voice on the intercom said.
"Excuse me a second." Vork punched the line button, then listened for a moment. "Well, tell Detective Jimenez I'll be out soon as I can. And have the people from Channel Thirteen wait with the good people from Channel Ten. I'm in the middle of an interview here." He nodded another couple of times, then sighed. "Look, LuAnne, do me a favor and set up a press conference. Do it in the break room and give me fifteen minutes, okay? I'll talk to all them reporters together. I'd rather not go through the same story five times." He slammed the phone down and looked at Lauren. "Sorry again, Dr…Chambers. As I was saying…do you remember what it was that I was sayin'?"
"All you said was 'Do you know…'"
"Oh, yeah. Do you know if your husband had any enemies, anyone he'd had arguments with recently or in the past?"
"If he did, it wasn't something he told me about."
"Any business problems he complained about?"
"He was a supervisor, so he had a lot of people under him. I think he had a good relationship with them. But he never brought his work home. He never complained about anything."
"What about financial problems? Did you handle the family finances or did Michael?"
"Michael did. I was never any good at math, and after the first few bounced checks, I just let him handle it all."
Vork sighed, then stroked his mustache. "Okay. When you go home, I want you to look around and see if you can find something that might have the name of your husband's college or fraternity on it. If we get that, I can put someone on it, track down his friends. Meantime, I'll alert the sheriff's department in Vail, let them know we may have a group of people stranded somewhere. Maybe we'll get lucky. If they've got a report of another family member missing, one of your husband's buddies, we'll know we're on the right track. But again, I want to be honest with you, Dr. Chambers. If they haven't had other calls, they may not put much effort into it. We're not sure of our facts, and they don't want to be wasting their time. And sending up a whirlybird in the high country is expensive and risky business. I'm sure they wouldn't want to put anyone in danger if we didn't know for sure your husband and his buddies were even out there. I don't even know where to tell them to search."
"Then they're not going to do it, are they?"
"Honestly, I can't say they will. I wouldn't. But I will make the call, I promise you that much—"
The phone buzzed, followed by a filtered voice through the intercom speaker. "Deputy York, please report to the break room." York shook his head. "Sorry again."
"There is something else." The deputy nodded for Lauren to continue. "I got the feeling last night that I was being followed, when I was driving home."
"You sure about that?"
"I think so. I mean, I was sure of it at the time, but…I think so. Yes."
"What kind of car was it?"
"I didn't see it, it was dark out. All I saw were the headlights."
"How many people were in the car?"
"I—I don't know. Like I said, it was dark."
"Why do you think it was following you?"
"Because I made a lot of turns, and it turned with me, always staying about two blocks back."
Vork regarded her for a second. "Don't take this the wrong way, but have you ever had that feeling before, that someone's following you?"
"I'm not paranoid."
"If you don't mind me saying" —Vork crossed his arms over his chest— "maybe your concern over your husband has put you on edge. Being a little paranoid would be a normal reaction, wouldn't you think?"
"Look, Deputy, I'm the psychologist here. Don't try—"
"I didn't say that to make you uncomfortable. But we do get some training in psychology. Helps us to understand the criminal mind and such."
"Your point?"
"From what I remember, and correct me if I'm wrong since you're the expert, but isn't paranoia kind of a reaction to a situation that poses no real threat, or some such thing like that?"
Lauren nodded, her gaze finding the ground.
Vork let that thought hang in the air a long second.
"Well, then," he finally said, "I'm no doctor, but is it possible that this feeling of being followed is just, I don't know, an offshoot of the fact that your husband's missing?"
"No, Deputy, it's not." Lauren knew that it was possible, but she didn't want to admit it out of fear that it could taint everything she had just told him about Michael's disappearance.
"Is that a professional opinion, Dr. Chambers, or did it come from the heart? Which hat are you wearing right this second?"
Lauren didn't answer.
The door swung open and the young man who had intruded earlier poked his head in again. "I don't know if you heard the page, but—"
"Thank you," Vork said. "I heard it. I'll be right there."
The door closed and Vork stood. "Sorry I couldn't be of more assistance. If you find that note he left, or the name of that college or fraternity, we can take a more aggressive approach. In the meantime, I'll get all the info out to every officer in California through our CLETS system, just in case."
Lauren, her eyes still focused on the ground, nodded. "Thanks for your help," she mumbled. A second later, the door clicked shut.
AFTER LAUREN HAD WALKED DOWN THE HALLWAY and made her way through the front doors, she heard someone call her name. She turned slowly and saw Carla Mae hurrying after her into the parking lot. Lauren stopped, then squinted against the gray brightness and waited until Carla caught up to her.
"Was Deputy Vork helpful?"
"Not really."
"He means well, he really does, Dr. Chambers."
"I'm sure he does. Thanks for your help." Lauren turned and continued on toward her car.
"It's this murder investigation, it's got everyone all stressed out," Carla called after her. "We don't get many killings here, and being shorthanded and all, it's made it hard to deal with other important things, like your problem."
Lauren stopped and turned to face Carla. She did not feel like speaking with anyone at the moment. She wanted to go to her office, rummage through her desk again, and see if she could locate Michael's information. "Don't worry about it." Lauren forced a smile. "I'll be fine."
"I'm sure you will be, missy. But we're going to make sure of it."
"How's that?"
"I need a photo of your husband, the sooner the better." Carla held out a hand and wiggled her thick fingers.
Lauren saw the impatience in Carla's mannerisms and realized that the woman was serious. Lauren opened her purse and pulled out a wallet-size photo they had taken last year at Dean Porter studios. "Will this do?"
"That's perfect. We can crop you out. No offense, missy."
"What are you going to do with it?"
"I'm going to make up a flyer that we'll post all over town. And as soon as I get back to the office, I'm going to get our phone tree up and running."
"Phone tree?"
"Neighborhood Watch. That's how we do things here. Everyone comes together to help everyone else."
Lauren allowed a smile to spread across her face. "Thank you, Carla."
"Tonight at, say, seven o'clock, we'll all gather in the middle school gym. Don't be late."
Lauren found herself nodding. "I'll be there."
LAUREN DROVE TO HER OFFICE IN Cameron Park, a ten minute ride west of Placerville. As she approached the exit off U.S. 50, she dabbed at the perspiration across her brow. Freeway driving was one of the more difficult tasks for an agoraphobic to handle. Blaring music made the ride more tolerable by minimizing all other surrounding stimuli. In this case, an Elton John love-songs CD Michael had bought her a few months ago provided the diversion. She lowered the music, slowed onto the Cameron Park exit ramp, then turned right into the small office complex.
Lauren pushed through the door to her office and sat down at her desk. Six files were piled to her left, and another was lying on her blotter with a microcassette recorder tossed across it. She realized she had never dictated the notes on her new patient, Steven Simpson, the one with the sadistic torture fantasies. She looked down at her pad of scribbled notes and shook her head. Only next week's visit would tell her if she'd had a positive effect on Steven's behavior.
Lauren opened her drawer, again trying to locate the slip of paper, pad, or message slip on which she'd written Michael's information. She had searched her office yesterday, to no avail. Now she was back, hoping that a fresh look at things would produce a different result.
She rummaged through her files, checked her wastebasket, which had since been emptied, and then cradled her head in her hands, elbows resting atop her desk. In her mind, she walked herself through Michael's phone call. It was hectic; she had just taken a call from another psychologist about a patient. As she hung up, her late appointment came running out of the elevator—and then the receptionist informed her that Michael was on the phone.
She opened her eyes and looked around the office. She remembered walking in and grabbing something to write on as Michael was rattling off his itinerary. She kept telling him to slow down, but he said he would leave a note for her and that he had to go before the traffic made him miss his plane.
Her eyes roamed the office and came to rest on an issue of Sports Illustrated. "That's it!" she said, rising from her chair. She lifted the magazine and looked for her handwriting. Finding it clean, she walked out of the room and into the waiting area where the other magazines were haphazardly tossed on a large coffee table in between two couches.
None of the issues had her handwriting on the back. But she remembered it all now, from Michael's phone call to scribbling her notes across the back of a magazine. After making sure no stray issues were beneath the couches or in the empty rack on the wall, she walked up to the receptionist, who was fielding a phone call.
Lauren knew that either a patient had taken the magazine home with him or her, or—
The receptionist disconnected her call and was looking at Lauren. "Yes, Doctor?"
"Do you know if there are any other magazines floating around the suite? I wrote something down on the back of one of them and I can't seem to find it."
"I did a clearing just before the patients went in, about half an hour ago. I put all of them on the table."
"Do you remember seeing one that had my writing on the back?"
"Not offhand. But you know how patients are. Sometimes they ask to borrow one, but most of the time they just take them."
"If you find it, would you please call me immediately?" Lauren then turned toward the stairwell. "And do me a favor and reschedule tonight's and tomorrow's patients for another time. I've got some…personal matters to deal with."
Lauren headed back to her car, angry that she had not written Michael's itinerary down in a safe place. But, as Deputy Vork had said, at the time it did not seem to be important. Michael had said he was leaving the information for her.
So why wasn't it there when she got home that night?
Lauren returned to her car and headed down Cambridge Road toward the freeway. She was on her way to Michael's office in Folsom, where she hoped to find an enlightening morsel or two of information. Though she had spoken on the phone with his secretary at length yesterday, it was not the same as being there and examining his office herself.
After stopping at the traffic light, Lauren noticed that her fuel gauge light was lit. Her eyebrows rose in disbelief. Empty? She had filled the tank a couple of days ago. She tapped the dashboard plastic in front of the gauge, but the orange warning light continued to glow. Fortunately, an Arco station was a mile away. She hung a U-turn and headed back toward Cameron Park Drive.
STANDING OUTSIDE IN THE CHILLED wind, Lauren alternately lifted her feet, trying to generate some warmth. After another gust hit her, she took shelter inside the car and rubbed her hands together. She'd figured the tank would only take a few gallons—thus confirming her thought that the gauge was defective. But as the LCD readout approached seventeen gallons, she realized that something was definitely wrong.
And it had nothing to do with a faulty fuel gauge.
4
Lauren walked up to the new four-story office building on East Bidwell Road and shielded her eyes from the high gray sky that was bouncing off the reflective glass. Inside the lobby, the directory displayed the company name, Cablecast, and listed the three floors that it occupied. She had not been to Michael's office since his division had moved suites six months ago and had to ask several people before finding the proper floor and section.
Lauren introduced herself to Amber, Michael's secretary. Dark skinned and thin, Amber was not what Lauren had expected.
"People in his group have been in and out of his office," the young secretary said. "After we talked yesterday, I checked around, and everyone said they'd left things pretty much as they were."
Lauren thanked her and proceeded in. Amber was a lot more attractive than Lauren had imagined. Certainly, if what Deputy York had said was true, then Michael didn't need to go all the way to Colorado to have an affair. He had a sweet, young candidate ten feet outside his office door.
Lauren shook her head and scolded herself for having such thoughts. But were such thoughts any worse than imagining her husband buried under ten feet of snow, the victim of a sudden snowslide in the middle of Colorado backcountry?
She stood just inside his doorway and took in the character of the office. It was dark and the air was stale, with an old, nicked and pocked wooden desk pushed over to one side of the ten-by-ten room. She turned on the overhead fluorescent lights. Piles of reports were stacked on his desk, along with a dusty collection of silk flowers protruding from a nondescript vase, and a photo of Lauren, one he had taken himself in their front yard with Tucker. She walked around and sat in his creaky chair, trying to take everything in. She couldn't resist playing the psychologist. Was this a happy office or a sad one?
The hum of Michael's PC caught her attention. Like most corporations, Cablecast kept its computers running 24/7. She reached over to the monitor that was squeezed in amongst the folders and turned it on. As the image appeared on the screen, she realized that Cablecast used Microsoft Office, which she was familiar with. She started Outlook and clicked on the CALENDAR icon.
Lauren searched Michael's schedule for the days before his departure, hoping to find a name or phone number that could give her more information as to where he had gone. She clicked through the prior two weeks without finding any reference to the trip other than one entry on the day he was to leave: "Skiing."
Before closing out the software, she decided to check his inbox for e-mails. She scrolled through the more recent messages that had arrived while he was away—all of which appeared to be work-related—and found one from a month ago sent by someone identified only as "targard." Frustrated that it didn't provide the person's name, she read through the short message:
Mikee, my man. Ready for the big trip next month? We're getting things squared away and should have all the t's crossed in a few days. It's a go! Can't wait to see all you guys. It'll be like old times. Gotta run. Catch you soon.
The message was unsigned. Lauren reread it, then realized there was nothing of use in there…other than that this was a real trip. If she had had any doubts after speaking with Deputy York, they were now extinguished.
She hit REPLY and composed her own message:
Hi. This is Lauren Chambers, Michael's wife. I don't have your number or I would've called. But Michael was supposed to be home two days ago and I haven't heard from him. Can you give me your name and number and tell me if you and your friends arrived home safely, and when you last saw my husband?
Lauren added her contact information, then hit SEND and waited as the message was transmitted across the cybersphere…hopefully to someone who could provide some answers.
She gave one final look through Michael's drawers, hoping to find a letter, a memento from his frat days, or something else that might indicate where he had gone. There was nothing. But she did find his handheld PC. She powered it on and checked the inbox. The only message was an e-mail Lauren had sent him a couple of weeks ago. The calendar was identical to the one she had seen on Michael's desktop computer.
She slipped the little PC into her purse, took one more look around her husband's office, and covered her eyes. As tears began to well, she realized she could no longer keep her emotions under control. She sat there and wept, praying that Michael would soon be found alive.
5
"Pupils round and reactive to light."
"Plantar reflexes downgoing."
"BP ninety over fifty."
"Severe blow to the head—"
"Stabilize C-spine."
"Abdomen rigid…possible internal bleeding—"
"Prepare to transport, get him on the spine board. Stabilize and roll on my mark. Ready, one, two—hold it, he's coming around."
The view of the gray sky rotated into view as a sudden wave of dizziness made Michael Chambers nauseous. "Where…?"
Two heads appeared above him. "You were in an accident, sir, we're paramedics. We're taking you to the hospital."
"They shot at me, had to go off the cliff."
"Uh, look, sir, you collided with the center median, took out another car. You didn't drive off a cliff."
"Gotta go—" Chambers tried to sit up, but was held down by a couple of hands.
"Hey, hey—you're in no condition to get up. We've gotta get you to the hospital. You suffered a severe blow to the head and you might be bleeding internally…"
"Sir?"
The voice was distant, and fading rapidly.
"He's losing consciousness again…"
MICHAEL CHAMBERS OPENED HIS EYES AND felt groggy. He blinked a few times and tried to clear his vision.
"Doctor, he's awake."
The female voice came from his right, where a nurse was preparing an injection. "This will only hurt for a second," she said as she pricked his skin with a needle.
"Well, Mr. Doe, looks like you're going to make it."
The doctor was smiling at Chambers with lots of white teeth, and the nurse's dialect indicated they were probably somewhere in the South.
"Where am I?"
"Virginia Presbyterian. You had a nasty car wreck and the paramedics extracted you from the vehicle and transported you here. I'm Dr. Farber."
The room was beginning to come into focus. Chambers rotated his head, searching for a wall clock. "How long have I been here?"
"About two hours."
"Two hours—" He started to sit up, but he felt sharp thigh pain and his headache intensified. "Oh, that's not a good idea."
"Careful there," Farber said. "We had to do a little emergency surgery. Nothing major, but you had something lodged in your thigh and we had to get it out before you developed a nice little infection."
"Not to be ungrateful, Doc, but right now, my head is spinning and hurts a whole lot more than my leg." Chambers put a hand on his forehead.
"We gave you another shot for the pain, but it probably hasn't kicked in yet. As for your head, I've got you scheduled for an MRI to make sure you don't have any internal brain swelling. You took a hell of a blow. I've called neurology for a consult, but they're a little backed up."
The doctor paused to sign a chart the nurse had handed him, then turned back to Chambers. "Mind telling me what your name is?"
"My name?"
"You didn't have any identification with you, and the car you were driving in was reported stolen."
"My name. My name is…my name is…I don't know. How can I forget my own name?"
"You've suffered a concussion, probably from hitting your head on the steering wheel. Paramedics said you bent it pretty good. But it also appears as if you had another blow to the posterior portion of your head very recently. Judging by the looks of it, I'd say it's not from this accident. Do you know anything about that?"
"No, nothing."
Farber nodded. "Where you were born, let's start with that."
Chambers stared at the doctor, his mind as blank as the man's white coat. "I don't know."
"Can you recite the alphabet for me?"
Chambers frowned. "A, B, C, D, E, F, G—"
"Okay. I'm going to tell you a color, and I'm going to ask you in a minute what color I told you. Magenta. Got it?"
"Magenta," Chambers repeated. "Got it."
"By the way, what color is magenta?"
"Kind of a purple-red."
"Good. Okay. Tell me, do you know where you live, what your home address is?"
A long silent moment passed, then Farber clicked his pen open and jotted a note in the file. "How about what you ate for breakfast this morning?" "Eggs."
Farber regarded his patient for a moment. "You're sure about that? Eggs?"
Chambers looked away. "No, I'm not sure. I don't remember eating anything this morning. I can't even remember what I was doing before I woke up here."
"Can you count backwards by ones and threes?"
"Look, Doc, are all these questions necessary?"
Farber sighed. "Since I've called for neurology, I guess not. They'll go through everything with you in much greater detail. I was just hoping to narrow down what we're dealing with."
"How serious is this? I mean, I'm gonna get my memory back, won't I?"
Farber hiked his eyebrows. "Generally, the more severe the concussion, the more substantial the neurologic deficits could be. And if you've had any concussions in the past, it could make the effects of this one that much more significant." Farber looked over to the nurse. "Can you page neurology again?"
The nurse nodded and walked over to a wall phone.
Chambers looked at Farber. The man was about thirty years old and had short, dark hair with deep rings beneath his eyes. "You look tired."
Farber smiled. "I've been on for thirty-three hours and I'm looking forward to a warm shower and a long, uninterrupted nap. Do you remember anything about what happened to you, how you got into the accident?"
Chambers shook his head.
"Do you know why you had a bullet in your thigh?"
Chambers looked hard at the doctor. "A bullet?" Something wasn't right. A stolen car, a bullet…am I a victim or a criminal? He felt an overwhelming sense of unease, of the need to protect himself. He looked away from Farber. "No, I—I don't."
Farber pulled a penlight from his breast pocket and flicked it into Chambers's eyes. Farber shook his head, then sighed again. "Well. Until we can find out your name, we're going to call you John Doe. Like I said, you're scheduled for that brain scan and I've been told the police have some questions for you—"
"They asked me to let them know as soon as he's lucid," the nurse said.
Chambers's gaze shifted to the nurse. "The police—for what?"
"Anytime a person comes into the ER with a gunshot wound, we're required to notify them."
"Can't it wait, I'm still feeling real tired." He gave them a slow, gaping yawn and looked at the doctor with glassy eyes. "I don't think I'm up to answering a bunch of questions just yet. Besides, I can't remember anything."
Farber turned to the nurse. "Would you tell them he's still out and it may be a little while?"
The nurse frowned. "Yes, Doctor." She disappeared out the door.
"Doc, this memory thing is temporary, right?"
"I'd prefer to look at it optimistically. But to be honest with you, until I get that consult from the neurologist, I can't say how permanent, or temporary, it's going to be. Diagnosing it properly is the key. There are a number of possibilities—postconcussion syndrome, retrograde or posttraumatic amnesia, and a host of psychological or organic causes. We've drawn blood and we'll run a tox screen to make sure you haven't ingested any kind of drug that'd explain your memory problems. The MRI will help. And depending on what that shows, we may also get an EEG to rule out epileptic disorders. Until we know when and where that bullet came from, it's possible the bullet and the accident are completely unrelated. In which case, a seizure could explain why you drove off the road."
Chambers let his head fall back onto the pillow.
Farber gently patted Chambers's shoulder. "Radiology'll be down for you shortly. You can rest here in the recovery room. When the X-ray techs wheel you out, the police may see you, so you may not have any choice but to speak to them at that point."
Farber scribbled his signature on the metal chart and hooked it to the end of the bed. "I'll tell them they have to wait until after you get the brain scan, but my experience with the police is that they seldom listen to what I have to say."
"Thanks for your help, Doc. I'll remember you in my will."
"Then for my sake, I hope that concussion isn't too bad." Farber turned and headed for the hallway.
"Hey, Doc," Chambers called after him. "You forgot to ask me something. Magenta."
Farber smiled, then walked out of the room.
As soon as the door closed, Chambers eased himself off the bed, the pain from his left thigh finally masked somewhat by the medication. He felt a pulling sensation and reasoned it was stitches. As he stood up, he felt dizzy and his head began throbbing more intensely, like a jackhammer on cement. He took a deep breath, steadied himself, and waited for his eyes to clear before hobbling across the floor and through a pair of double doors that led to a supply room. There were trauma capes, surgical gloves, stethoscopes, sphygmomanometers, and an assortment of cath kits, electrode pads for ECG units, trach tubes…and surgical scrubs. He pulled out a pair of freshly folded burgundy pants, a shirt, and a surgical cap. He slipped them on, tossing his hospital gown into a basket in the corner of the room.
A bullet? he thought. That can't be good.
Until Chambers could determine if he was a felon wanted by the police or an innocent bystander, he could not put his trust in law enforcement. But one thing he felt he could trust was his instincts. And right now, they were telling him to put as much distance between himself and the cops as possible. Self-preservation was a powerful emotion.
He took a stethoscope off a hook on the wall and wrapped it around his neck the way Farber had worn his. A few footsteps later, he was at the door and peering out. Two police officers were coming down the hallway, pointing at the adjacent room where he had been lying a few moments ago. He waited until the cops were nearly at the entrance to the recovery room, then pushed through the door.
Chambers walked out of the supply room, heading down the corridor, trying to carry himself as naturally as the leg wound would permit. He wondered how long it would take the police to realize that he was the person they were looking for. They would probably grab a nurse or doctor and ask what had happened to the patient known as John Doe. Then, they'd flash on the doctor they had seen leaving the adjacent supply room, who was sporting a slight limp; they would do a quick search of the cabinets and find the bloodied gown. Then they'd be heading in his direction. All told, he probably had three minutes, unless something unexpected occurred.
Chambers quickened his pace and a second later was turning down a long corridor where the hospital laboratory was located. He slipped into the sprawling, open suite, which was well-lit from above with banks of sleek, brushed-aluminum fluorescent light fixtures. A few lab techs were busy processing samples, and a nurse was dealing with a line of patients at a long counter.
Chambers walked through the lab, still limping as he passed the reception station, and proceeded into the work area. He grabbed a patient chart and pretended to look inside while he thought about how he was going to get out of the hospital. He had no money, no car that he knew of—Farber had said the one Chambers had been found in was stolen—and nowhere to go.
He closed the chart and headed toward the back of the lab, where he noticed an elevator. He took it up to the second floor and glanced out into the hallway: the sign indicated patient rooms, the cardiac care unit, and ICU. None of these would do.
He needed food and a quiet place to think. But if the police started searching the hospital, it would be best if he was out of the building. Or would it? If he was lucky enough to avoid a search, he could wait a few hours and then leave. By then, they would be focusing their efforts elsewhere—why would a sane person remain in a place where the police were looking for him?
The third floor was more promising, as the directory indicated that it was where the doctors' lounge was located. As he approached, the smell of chicken and potatoes hung in the air. His stomach contracted again.
He walked into the lounge and hesitated as he glanced around. A couple of physicians were sitting on a couch reading journals. Another was half-reclining, her eyes closed, the exhaustion of a long shift etched in her face. He continued on into the adjacent cafe, picked up a tray, and surveyed the food. I'll take a little of everything, he felt like saying. Instead, he settled for a scoop of potato salad, a tall Coke, a ham-and-cheese sandwich on wheat, and a container of yogurt.
At the register, an elderly woman smiled at him and began ringing up his food. "That'll be six-eighteen."
"Oh," Chambers said. "I'm sorry, I forgot to tell you this is on Dr. Farber. He asked me to have you put it on his account."
The woman hesitated and crumpled her wrinkled face. "I really need verification—"
"I should've told you before you rang it up." He leaned closer to her graying hair and lowered his voice. "Dr. Farber lost a bet," he said as he noticed the other cashier with the Washington Wizards T-shirt on. "Took the Wizards and lost big. Kept forgetting to pay up. Told me to grab a late lunch and have you put it on his tab."
"Dr. Farber shouldn't be betting on basketball games. I didn't never think of him as the gambling type."
Chambers shushed her with a finger to his lips. "He's…a little embarrassed about it."
The consulted a hospital listing, and then entered a key code into the register. She placed the receipt on the tray and nodded.
Chambers shoved the receipt into his shirt pocket. "I'll make sure he gets this so he can deduct it from what he owes me." He winked at her and carried his food over to one of the tables in the far corner of the cafe, where he had a clear view of the entire lounge. With one eye on the entryway, he consumed the entire meal in less than five minutes.
He pushed the tray aside and rested his face in his hands, trying to assemble what few facts he had into some sort of a cohesive scenario that might help him discover who he was: He had been shot in the thigh, stolen a car, and gotten into an accident on the highway after hitting a center median. He'd had emergency surgery, the police wanted to speak to him, he couldn't remember his name, and he had no identification. Despite his best efforts, it was not coming together. He fought back a yawn, gathered his energy, and pushed himself up off the chair.
Chambers left the lounge and felt the sudden heaviness of exhaustion pervading every part of his body. He made his way down the hall, checking nameplates on the walls, looking for a place where he could rest. He found the doctors' on-call room and pushed in through the door.
Three cots were set up inside the cramped room. He gingerly climbed on the one against the wall, curled into a ball on his side, and fell instantly into a deep sleep.
THE VIRGINIA STATE POLICEMAN CHECKED his watch and pressed the phone receiver to his ear. "We had security posted at all stairways and elevators the minute we realized he was missing….Yes, sir, we've scoured the bottom floor." The man looked at his partner. "Yeah, I guess it's possible he got through to another floor before we posted the guards. He could have left the hospital, too. If I were him, that's what I'd do. Get as far away as I could. But if he's still here, what goes up has to come down, you know what I mean?" He nodded, then looked at his partner. "Any ambulances missing?"
"I'll check," the other officer said, then walked off toward the ER intake desk.
A few moments later, the officer returned just as his partner was hanging up the phone. "Well?"
"All ambulances accounted for."
"Well, this is just fucking great. FBI's getting involved.
Agents are on their way over from the Washington Field Office."
"Feds?"
"Yeah, they say he matches the description of a guy they're looking for."
"We need to find him before they get here or we'll never hear the end of it."
The cop nodded. "We've got maybe thirty or forty minutes. Let's do a thorough search of all floors. Between hospital security staff and the units already on their way, we'll be able to cover the place in twenty, twenty-five minutes."
"Fucking feds," his partner said as they strode purposefully down the hall. "This is our manhunt."
6
Michael Chambers was in such a deep sleep he had hardly moved since lying down on the cot. In the past two days his body had been subjected to the type of trauma that would ordinarily take weeks to recover from. But for the time being, a few hours of uninterrupted sleep would have to suffice.
At the moment, he saw himself wading barefoot through a rose garden. There were bright reds, whites, yellows, pinks…colors and varieties of roses such that he had never seen before. He stopped and looked down at his feet, which were standing in the cool, moist peat moss. A sweet scent hung on the air and he sucked it in deeply, filling his lungs with the competing aromas.
He looked down again—and saw deep gashes across his feet, blood oozing everywhere, as if the thorns from the rosebushes had swarmed his bare legs and sliced the skin to shreds. He bolted upright in bed, instantly awake, and realized he was dreaming.
As he struggled to see his feet in the dark, the door opened and light spilled into the small room, creating a tall, thin shadow on the wall next to the cot.
Chambers threw a hand up to his eyes to block the light. He looked around, still agitated from the nightmare, dizzy and completely disoriented. "What are you doing?" he shouted.
His visitor, dressed in a light blue uniform, closed the door slightly and the room darkened again. "Sorry, sir, hospital security. I—I didn't mean to wake you, but a patient's taken off and he's wanted for questioning by the police. We've got orders to search all rooms. Nobody's come in, I take it."
"I've been on for thirty-three hours straight," Chambers said, recalling what Dr. Farber had said to him. "I've been dead to rights ever since I fell asleep."
The man nodded, pulled out his flashlight, and swung it around the room beneath the three cots. "Okay. All clear." He apologized again for disturbing him and left.
Shit. They were searching the entire hospital. He wouldn't be able to leave, at least not for a while. But since this room had already been checked, he would hopefully not have to pass the scrutiny of a real cop, one who wouldn't be so easily dissuaded with a physician's woeful story of exhaustion.
He lay back, closed his eyes, and within seconds was drifting off again to a deep sleep.
Buy The Hunted: