The Darkness of Evil: what happens when a daughter discovers her dad is a serial killer?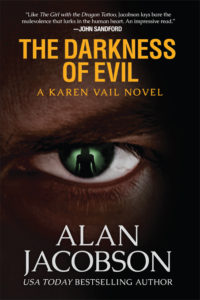 A couple of years ago I started wondering what it would be like for a daughter to discover that her father is a heinous murderer of women. What would she feel? Denial? Or a sudden realization that she'd been explaining away behaviors she'd observed over the years?
We've all seen news reports where a killer's neighbors are interviewed and they say, "Joe's the nicest guy. He helps me with my groceries, shoveled my snow last December. I can't believe he's a killer." Or, "He kept to himself, but he seemed like a normal guy." These killers excel at hiding their true selves.
But what about someone you live with, someone who tucks you in at night and reads you bedtime stories—only to discover he specialized in torturing women before slicing them up and murdering them?
Often our minds play tricks on us to protect us. We subconsciously deny ourselves the ability see what's in front of our eyes. For over 20 years, I've worked with two FBI profilers who've devoted their careers, and large portions of their lives, to studying such heinous murderers. This collaboration has helped me explore several different types of killers while writing the award-winning FBI profiler Karen Vail series of thrillers. The seventh book, The Darkness of Evil, launched last month and has garnered terrific reviews from critics, reviewers, and fellow authors. (John Sandford: "Smoothly written and intricately plotted. Like The Girl with the Dragon Tattoo, Jacobson lays bare the malevolence that lurks in the human heart. An impressive read.")
The Darkness of Evil came from my musings about a daughter who discovers her father has murdered fourteen people. Jasmine Marcks decides to write a book about her experience growing up as a serial killer's daughter, but when it's published and she hits the talk show circuit, something happens that no one could have foreseen.
I hope you enjoy reading The Darkness of Evil as much as I enjoyed researching and writing it!
Buy The Darkness of Evil:
(Note: audiobook link is not yet active)
KindleNookiBooksGooglePlayKoboPaperbackHardcoverLeatherbound hardcoverIndieBoundAudiobook